I am a huge fan of French Dip Sandwiches. I think they are the most delicious delicacy ever derived of hot shaved beef placed on bread. Particularly when you buy this delicacy at Houston's and it's made from shaved
prime rib
, cooked to a perfect medium rare... ahhh....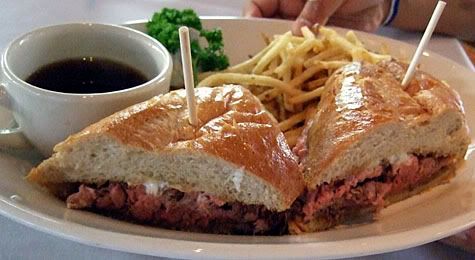 These were definitely one of the most popular menu items, and my mouth watered every time I had to deliver it. Every. Time.
Anyway, back to the purpose of my post, I consumed the best COLD roast beef sandwich today. My creative mother-in-law, Kari, made it just for us. It was made of:
Light Rye Bread
Roast Beef
Cream Cheese (as the spread)
Cucumber
That was
it
. And it was AMAZING! The tangy-ness of the rye in combination with the sweet cream cheese, crisp cucumber, and tender beef was incredible.
I am a picky eater. I don't try new things often. One bite of this put me in sandwich heaven! Ruffles potato chips went with it perfectly (who doesn't like ridges?). I will most definitely be making this sandwich at home. Every time I try some combination of things and it tastes great, I think of dear Remy from
Ratatouille
, screaming about infinite combinations of flavors to explore...
I had this experience today. Anyone have a moment like this recently?